Impinj Speedway Revolution Evaluation Kit
Impinj ®, the only company possessing expertise in all areas of RFID systems and component design, bring all the pieces of the RFID solution together into their Speedway Revolution Evaluation Kits. These RFID Kits provide users with a means to analyze the complete UHF Gen 2 answer for any RFID application, from pallet - and case-level down to item-level.
By combining Impinj's fixed RFID readers, near-field and far-field RFID antennas, Monza™ - powered RFID tags, and access to the latest Impinj support tools and documentation into one easy-to-install RFID demonstration kit, customers can quickly verify the efficacy of an entire UHF Gen 2 RFID solution.
Impinj RFID Evaluation Kits deliver powerful tools for demonstrating the unmatched capabilities of Impinj RFID technology.
Impinj Speedway Revolution Evaluation Kit Contents
Speedway R420 RFID Reader with universal power supply, power cord, and console cable.


RFID Antennas: 2 far-field antennas, 1 Mini-Guardrail antenna, and a single two-meter SMA to R-TNC extension RFID antenna cable.


RFID Tag sample pack.


Access to the latest Impinj RFID firmware, testing software, programming libraries, and documentation.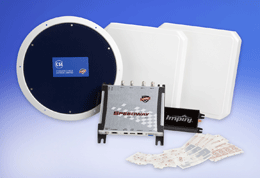 Speedway Revolution R420 RFID Evaluation Kits



IPJ-DREV420-USA - ( FCC )

Certified for use in North and South America, Carribean and regions governed by the FCC communication standard.

$2,365



IPJ-DREV420-EU1 - ( EU / ETSI )

Certified for use in Europe and regions governed by the ESTI communication standard.

$2,365



IPJ-DREV420-GX1 - ( GX1 )

Certified for use in Brazil, Uruguay, Australia, New Zealand, Hong Kong, Thailand, Vietnam, Malaysia, Indonesia, Singapore, Taiwan and Israel.

$2,365



IPJ-DREV420-GX2 - ( GX2 )

Certified for use in China, Korea, and South Africa.

$2,365
Impinj RFID Antennas
We define accurate, reliable, and adaptable solutions as systems of integrity. A system of integrity produces the consistently reliable data demanded as the foundation of any RFID business system. To meet this requirement with RFID, high-performance RFID tags and RFID readers are a given, but RFID antennas play an equally important role. RFID antennas with characteristics optimized for end-user applications enable the entire RFID system and play a critical role in ensuring that the RFID system operates dependably and accurately.
Monza™ and Monaco™ RFID Tags
Impinj's Monza and Monaco UHF Gen 2 RFID tags support global tagging needs. Their unique dual input design enables a full range of RFID antenna form factors that satisfy applications at short range (near field), long range (far field), and everywhere between. This flexible RFID antenna support capability, combined with broadband sensitivity, excellent interference rejection, and exceptional performance, empower RFID tagging applications from item level to pallet, worldwide.